Crash Courses: Tips & "How-To"s

0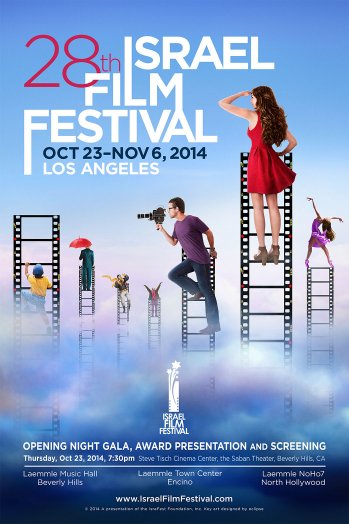 When I lived in New York, one of the focal points of my entertainment year was the Israel Film Festival. My friends and I, pre-Hulu, pre-Netflix, pre-much-of-anything-other-than-mainstream-modes-of-entertainment, eagerly anticipated the annual display of Jewiness-on-film meets Zionism, the Jewish geography and Hebrew immersion experience that was the Festival. We all knew when the Festival was happening, where it was happening and what was playing. I remember that most of the shows were sold out well in advance, because of the collective New York Israel-loving-and-missing community, many of us in our twenties. We planned outings, doing dinner or drinks first at a local bar or on several occasions, sinking into New York cliche with frozen hot chocolate at Serendipity, which had the convenience of being nearby the theater.
And all of that was before social media.
Since I moved to LA, I've either been out of town for the IFF (my fault, but usually because I'm in Israel), or have been in town but have been unaware that it's happening. This doesn't seem possible, as I spend most of the day online and connected to the Jewish world. I follow the IFF on Twitter, and subscribe to their FB page, as well as email blasts from the Jewish Journal and the IAC. This year, one of my friends posted about it on Facebook. But if not for that, I might have woken up someday next week and learned that I had missed it yet again.
Theoretically, in this age of hyper-connectivity, I should have been overwhelmed with communications regarding the IFF, both in advance and once it was underway. So why wasn't I? Part of the problem is that communications are overwhelming generally – since I rarely pick up a copy of the Jewish Journal and read only selected articles online, it's not the mainstream media that's the problem as much as it is the evolving way we consume that information. And it might be, in part, because their social media presence is so minimal and they are failing to mobilize the audience (and their sponsors) as brand ambassadors and PR agents.
Because Facebook is an inexplicable mystery when it comes to assessing the potential for organic reach without advertising (and because they should be advertising to LA Jews and don't seem to be), let's take a look at the Twitter account for @israelfilmfest.
Their account, since November 2009, has tweeted 121 times. They have under 1000 followers. Most of the "people" they're "following" on Twitter aren't people at all: they're other Film Festivals (who are not likely to share, retweet or publicize the IFF's efforts) and organizations (some partners, who should be sharing/retweeting/publicizing, but don't seem to be). And – most disturbingly – only have tweeted 5 times in the month of October, precisely when tweets should have been, if not fast and furious, then laden with information, tempting offers and tidbits about the festival's films. The website links to a few pieces about the Festival, but imagine the reach of those pieces expanded by social media…
This advice is unsolicited. But because I love the Festival, I'm sharing some tips about how to do it better next year (or at the other two outings of the festival, upcoming in Miami and New York….but don't ask me when those are or were, since that info doesn't seem to be on the IFF website).
1. Use your assets in promoting the festival. The filmmakers. The content of their work. Their actors. People in LA who are Israeli or support Israeli culture. Local kosher/Israeli establishments. Festival partners. Organizations who aren't financial sponsors, but could be content partners. And the organizers should have shot wide in terms of the angles that could be explored for coverage. For instance:
People who are in the know about Israeli music get giddy at the fact that Meir Fenigstein founded and runs the Festival, it's like being in the same room with one of the Beatles. Why isn't there an article about Poogy/Kaveret, or about the music of Israeli films?
Fenigstein told a story at the screening of "The Go-Go Boys" about Menahem Golan's role in suggesting and sponsoring the first IFF. Why wasn't that a first-person piece (or an interview) in the Jewish Journal, Variety, THR, The Writer's Guild, the Academy of Motion Picture Arts & Sciences, or EW?
Cannon Films, the Golan/Globus production company that became huge in the 80s and is the focus of The Go-Go Boys," producing Death Wish, Bloodsport & Breakin', must have inspired dozens of filmmakers (in addition to Eli Roth, who is featured in the film). Maybe pitch Quentin Tarantino on writing something about his favorite Cannon Films outing, or invite Eli Roth to introduce the film at the Festival? (They may have, but these are the types of ideas I mea when I say "shooting wide…" in regard to PR.)
2. Enhance your social media presence. Ideally, hire someone (or designate a web-savvy volunteer) to coordinate a multi prong social media approach, including (at minimum) Facebook, Twitter & Instagram. But I know sometimes Jewish nonprofits can't allocate those funds, in which case less ideal but still a plan, hire a consultant to create a plan for you to implement before during and after the festival. And that's #3…
3. Create a content plan, including a commitment to Tweeting regularly leading up to and during the festival. In addition to varying the types of content posted (trivia, Q&A about the festival or its films, short video clips, shoutouts to filmmakers, links to purchase etc), this content plan should also clearly identify the goals of each week's social media outreach. Which week will be primarily about promotion and identifying potential partners/sponsors? Which week will be about getting people in the seats? Which week will be about celebrating the people who come and the energy on-site? (That there are NO PHOTOS on the Photos tab on the website as of November 2 – a week into the festival with almost a week to go – is not a good sign.)
Keeping Twitter current and active on its own (or even using magical Facbeook advertising) isn't necessarily going to sell out the festival. But today, there are so many (free or mostly free) tools that are available – why not use them?
(If the folks at the IFF want help with this next year, they can feel free to be in touch. I'll give them a decent rate, I promise. :))
Want more posts like this one? Consider joining my new mailing list. No spam, no overwhelming emails, just the occasional conversation starter/act of self-promotion. 🙂  Sign up here…

0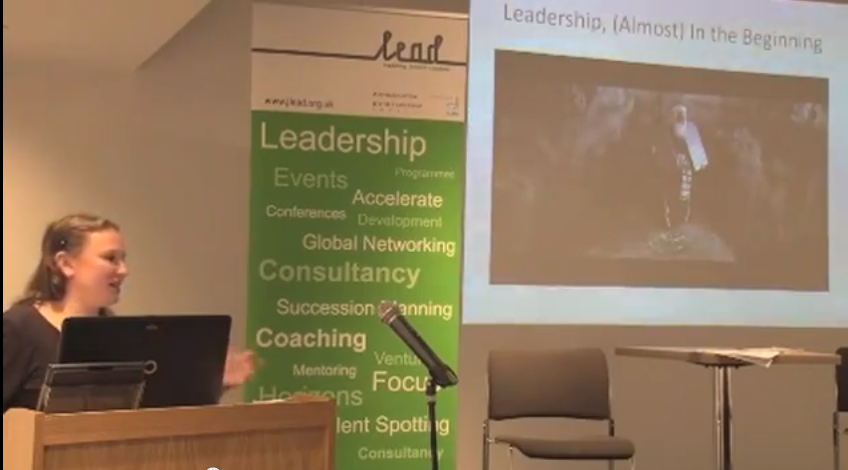 In May, I was invited to London to speak as part of the Jewish Leadership Council's Lead Division's newest initiative, Leading In which was created in response to the desire and need for more leadership skills training, expressed by alumni of Lead's programmes as well as employers within the community. The JLC, in a blog post about the program, explained:
We believe that Jewish communal leaders need both a deep understanding and knowledge of the UK Jewish Community as well as a core range of leadership skills. Leading In consists of regular bi-monthly evening sessions, open to all who are in a leadership position in the community, both lay and professional. Each session will include a leadership skills based session (a choice of three with the option to participate in a fundraising series over several sessions), an opportunity to network and a masterclass with an inspirational, visionary leader.
The event, held at the London Jewish Museum, was attended by 60 lay and professional leaders from more than 30 Jewish communal organizations. Debbie Klein, chair of JW3 (the about-to-launch Jewish Community Centre), gave the opening keynote discussing leadership tips, and participants chose from workshops like, "Inside the mind of a leader" with Jeff Wolfin, "Fundraising" with Jeff Shear (the second in the series), and my session, "Leadership in the Digital Age: Conversing, Commenting and Creating Meaningful Relationships" (available in its entirety – 1 hour, 22 minutes – below.

"Leadership in the Digital Age" – Esther Kustanowitz, May 2013

0
Over the years, I've had a number of people – at the office and in other areas of my life – ask for my advice on everything from PR to online content development and social media engagement. Most of them are just looking to glean some quick advice. So I thought it might be helpful to share a few pieces of advice about media strategy and PR. (A version of this post originally appeared on my blog, My Urban Kvetch.)
For a more comprehensive assessment of your current media strategy, or to work on particular elements of your media outreach, my consulting services are available at reasonable rates.
7 Tips Toward Strengthening Media Strategy
Whether you're promoting an event that's happened, or doing strategic outreach to bolster audience support, here are 7 basic elements to consider and tips to keep in mind:
1. Content: It's cliched to say that content is king, but content is the storytelling core of your strategy. The content will create a connection – intellectual or emotional – to the work you do. Make your first sentence engaging, and give the reader something they can't find anywhere else. This means not recycling the two paragraphs you've used in promoting the event or experience – it's the story of that event or experience: why is it important, what is the backstory, which fascinating folks are involved…take the reader behind the scenes and give insider information that only attendees would have experienced. Begin with a killer sentence – a riveting question or a surprising quote – once you get people hooked, they'll read on to find out more about what that first intriguing sentence means.
2. Length: Unless your Communications Department instructs you otherwise, I suggest a length of 400 words (maximum) for blog posts. Originally, about 400 words was be the maximum that would appear on a computer screen. Computers (and screen fonts) come in all sizes these days, but with the human attention span being fragmented, keeping it short and riveting is still a solid strategy. It also keeps you on track, making sure you use words and quotes that count, and helps increase the chance that people will read to the end.
3. Timing: If there's a fast turnaround needed for a blog post the morning after an event, the best way to do it is to pre-write the bulk of it. This may sound dishonest, but PR people do it all the time – they create skeleton posts with all the stuff that you know ahead of time and is not going to change (the where, what, who, when and why). Then leave spaces for things that personalize the experience and paint "what really happened in the room" – quotes from speakers or attendees, surprises in terms of attendees or reactions or questions, details of the kinds of discussions and partnerships that ensued. The next day, fill in the blanks, massage the language so it doesn't seem like a composite post, and you'll have a compelling, authentic post, posted in record time. People will marvel at your efficiency, and you don't have to reveal this secret to anyone. 🙂
4. Tone: Keep the "inside scoop" approach in mind when writing – so it's not just "this happened, and it brought a lot of things together, and it was interesting," but really capture the feel of who was there, how they were connecting with the speaker or presentation, and report some of the more interesting comments that go a little deeper and tell a better story than "this was a great event and I hope to attend another one soon." The "insider info" approach is like crack to people who write and read blogs – even though it's a calculated strategy, it's still authentic and special, and that's what people want. Depending on your organization's tone, you may opt for more or less formal, but the voice should be factual, authoritative and relatable.
5. Images: Any photos accompanying online content should be dynamic. People sitting at tables is one of the least compelling images you can submit. Get up close, take "action photos" – smiling attendees having animated conversations goes a long way image-wise. And if you have access to photos taken by participants, ask participants if you can use their photos – that's another opportunity for engagement, and it might also help you share the event's story digitally.
6. Distribution: When the post goes live, do not depend on your Communications or PR department alone to distribute it. This is your work. You know where your audience lives, so make sure they see it by Tweeting, FBing and promoting it in your enewsletters. Send to your "superusers" who have wide networks and are fluent in social media – they'll help the post get seen.
7. Social media strategy: Social media should be part of the discussions early and often – as you're visualizing an event or initiative, integrate social media into that plan – it will help you later. Do you have other tips to recommend? Feel free to leave them in the comments section.
Want to drill deeper? Let's set up a business call to talk. And in the interim, happy content-ing!