My Jewish Journal Life…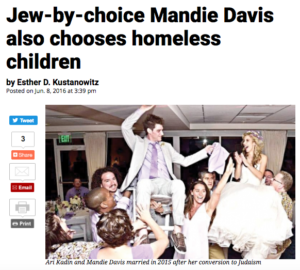 Since February 2015, in addition to my various other consulting work, I've been a contributing writer at the Jewish Journal here in Los Angeles, and have had the opportunity to tell some amazing stories – some about myself, and some about other people.
You can read all of my past stories – including a few "classics" from years before I even moved to Los Angeles! – at my author page on the Jewish Journal website. And here is a curated list of some of my 2016 favorites so far.
Jew-by-choice Mandie Davis also chooses homeless children: Southern Baptist-raised, and now Jewish, Mandie found love on Skid Row, and co-founded an amazing organization with her husband that brings joy to homeless children for their birthdays. (June 2016)
Today's Jewish TV characters come into their own: An exploration of how Jewish identity is totally a thing on television these days, as characters own their cultural identity, traditions and even Hebrew in an unprecedented manner. (April 2016)
Finding meaning in Passover prep pain: A personal piece recalling how much pain my late mother endured in creating Passover in our home, and how I created Passover in my home this year. (April 2016)
Reconsidering Kaddish: Profiling four new approaches to the mourner's prayer, which expand access to Kaddish as a ritual and imbue it with new meaning. (February 2016)
More available at my author page, and in the future, as I cover additional topics…