Posts tagged
tv

0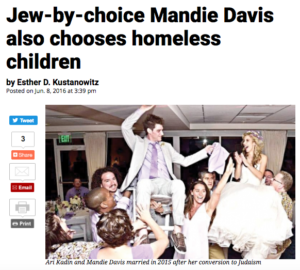 Since February 2015, in addition to my various other consulting work, I've been a contributing writer at the Jewish Journal here in Los Angeles, and have had the opportunity to tell some amazing stories – some about myself, and some about other people.
You can read all of my past stories – including a few "classics" from years before I even moved to Los Angeles! – at my author page on the Jewish Journal website. And here is a curated list of some of my 2016 favorites so far.
Jew-by-choice Mandie Davis also chooses homeless children: Southern Baptist-raised, and now Jewish, Mandie found love on Skid Row, and co-founded an amazing organization with her husband that brings joy to homeless children for their birthdays. (June 2016)
Today's Jewish TV characters come into their own: An exploration of how Jewish identity is totally a thing on television these days, as characters own their cultural identity, traditions and even Hebrew in an unprecedented manner. (April 2016)
Finding meaning in Passover prep pain: A personal piece recalling how much pain my late mother endured in creating Passover in our home, and how I created Passover in my home this year. (April 2016)
Reconsidering Kaddish: Profiling four new approaches to the mourner's prayer, which expand access to Kaddish as a ritual and imbue it with new meaning. (February 2016)
More available at my author page, and in the future, as I cover additional topics…
0
When it comes to the intersection between pop culture and spirituality (which sometimes means Judaism, specifically), my posts at Idol Chatter on Beliefnet run the gamut: from TV to music, from books to movies, from the Holocaust to the Family Guy to ABBA. Seriously.
After my making a case in October for Don Draper being a vampire, November brought a slew of varied stories. Ian McKellen started ripping pages out of hotel Bibles, Comedy Central expanded to Abu Dhabi, and that "Family Guy" live special offended lots of people. Reading and watching movies about Anne Frank – and presenting on Jewish pop culture at a local high school – led to both reviews and contemplations of what constitutes teen theology. The Macaroons, a new kids' band, brought catchy rock hooks to Jewish subjects, just in time for Hanukkah.
In December, ABBA was named to the list of future inductees for the Rock-and-Roll Hall of Fame, leading people to say, "um, is ABBA really rock?" But forget Swedish pop music and senatorial musical submissions: what's new with Jewish music this Hanukkah? The NY Times did a short piece, but I had a few suggestions of my own. Also, in the wake of Orrin Hatch's musical Hanukkah present to the Jews, Conan's Jewish cast member – Max Weinberg – sang back with a Christmas song for Mormons set to "I Have a Little Dreidel." Meantime, those creative folks over at G-dcast created a special animated episode for Hanukkah.
And just yesterday, Roy Disney died, reminding everyone how much of an impact Disney has had on the cultural landscape.
1
I'm a writer by training, but I have other skills too. Check out my online video clips, with more to come shortly:
Comedy, Community & Comfort (ELI Talks, June 2014)

Leadership in the Digital Age (workshop at LEAD, London, UK, May 2013)

ROI Community (Jewish innovation project) and the Jewish Future (IBA News, June 2012)

Rosh Hashanah, Explained on Good Day NY (September 2004)
High Resolutions: Facebook Guy
Blink and you'll miss me, but I do a dance cameo in the famous "Rosh Hashanah Girl" video.
Esther Gets a Makeover on Life & Style
Let My Parents Go!, featuring my finest overacting skills
Esther interviewed on ParadeTownUSA about the Salute to Israel Parade
If you've liked these clips, subscribe to my YouTube Channel, or even better, sponsor my yet-to-be-titled upcoming video show, coming soon in 5770! Got an idea for a show? Wanna be a sponsor? Contact me anytime via the contact form on this site or by email: jdatersanonymous at gmail.com.