Posts tagged
passover

0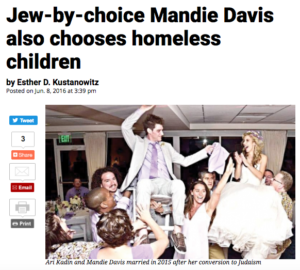 Since February 2015, in addition to my various other consulting work, I've been a contributing writer at the Jewish Journal here in Los Angeles, and have had the opportunity to tell some amazing stories – some about myself, and some about other people.
You can read all of my past stories – including a few "classics" from years before I even moved to Los Angeles! – at my author page on the Jewish Journal website. And here is a curated list of some of my 2016 favorites so far.
Jew-by-choice Mandie Davis also chooses homeless children: Southern Baptist-raised, and now Jewish, Mandie found love on Skid Row, and co-founded an amazing organization with her husband that brings joy to homeless children for their birthdays. (June 2016)
Today's Jewish TV characters come into their own: An exploration of how Jewish identity is totally a thing on television these days, as characters own their cultural identity, traditions and even Hebrew in an unprecedented manner. (April 2016)
Finding meaning in Passover prep pain: A personal piece recalling how much pain my late mother endured in creating Passover in our home, and how I created Passover in my home this year. (April 2016)
Reconsidering Kaddish: Profiling four new approaches to the mourner's prayer, which expand access to Kaddish as a ritual and imbue it with new meaning. (February 2016)
More available at my author page, and in the future, as I cover additional topics…
0
What's kept me so busy in April and May that there's been no time to update this site? In addition to churning out the pieces for Idol Chatter and elsewhere, I've been working with the team to launch the ROI Summit this summer in Tel Aviv, and am leaving California for New York, New Jersey and Israel imminently to prepare. (You can follow all the Jewish innovator action at ROICommunity.org and on Twitter at @ROICommunity.) I've also been increasing my experience as a social media consultant, working with a few clients in arts and Jewish leadership to improve their online presence, including activity on Twitter.
As for the articles: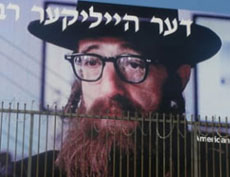 May
American Apparel Settles With Woody Allen Over Billboard
She's Baaack: Sarah Palin Gets a Book Deal
Winslet Sues, Clarkson Takes a Body Image Beating
April
'Weeds' Creator, 'Tara' Producer, and the Hebrew Mamita Take on Images of Jewish Women in Media
10 Ways Passover is Like 'Lost'
Celebs Use Reverse Psychology as Fundraising Technique
You also may have missed this article about a new ridesharing site that's trying to save the earth and help out people who need a ride: "Going My Way?" (MNN.com)