Posts tagged
jetblue

1
When a blizzard prompted the cancellation of hundreds of flights on December 26 of last year, I was scheduled to be on VS004 from JFK to London. My Virgin Atlantic flight  – which had been cancelled on the 19th due to a blizzard at Heathrow and rescheduled for the 26th at 6:05pm  – was again cancelled after we sat on the plane for two hours because of a blizzard at JFK, was rescheduled for 6:05pm the 27th, then delayed to 7:30, then to a boarding time of 8:15 that didn't happen, and eventually, after great protest from the passengers, finally took off after midnight on the 28th. During the entire experience, Virgin Atlantic continued to answer questions on its @virginatlantic Twitter account – except about our flight. There was no "stay tuned," no "sorry we don't have more information right now," just silence. This is unacceptable in a social media world.
Nearly a month later now, Virgin Atlantic still denies that passengers were due any compensation for the experience, even as JetBlue once again proves its VIP status by giving their stranded passengers 10,000 points, scoring customer satisfaction points among its inconvenienced passengers. When it comes to all-star VIP customer treatment and stellar social media response, JetBlue turns around their bad situation, resulting in another social media win. In other words, JetBlue was able to take a blizzard and turn it into snowcones.
What's the problem? Why won't Virgin Atlantic make any compensation to the 250 of us who were on VS 004? According to USA Today, Virgin Atlantic (via spokesperson Greg Dawson) claims that "monetary compensation is not due" to the people on our flight – who "had to sleep in the airport terminal because all hotels nearby were booked" – because the snowstorm was an "extraordinary occurrence." (The Virgin Atlantic staff also told us that the hotels they were offering us were two hours away in Long Island, and that buses would take too long to reach us, collect us and turn around and go back to Long Island.)
Travel writer and the main Twitter voice of our Virgin Atlantic experience Jason Cochran hasn't given up on the idea of compensation, and continues to battle the customer relations and public relations departments via email.
But apparently, Virgin's petulant behavior extends far beyond our particular flight – according to Bnet's Brett Snyder, "Virgin Atlantic has decided it won't pay Heathrow Airport's owner BAA anything until an inquiry into last month's days-long shutdown is completed. Virgin Atlantic is acting like an impatient child here, and runs the risk of making relations with its most important airport even worse."
This preposterous experience just doesn't seem to end. And least of all for writers. Because Jason is still on this situation – it's his job to be. And as for me, while I'm not spending every day fighting about it, I definitely have more to say. Because all the elements of this experience combined into something resembling a psychological experiment in how far people's patience can be stretched before someone cracks and goes postal. And while a Tweet here and there might not have alleviated our discomfort as we lay down for 40 minutes' rest on the cold floor of JFK Airport, Virgin Atlantic should have been using its social media presence to reassure us, to apologize to us, and to make us feel accompanied on our difficult travel. That kind of attention could really have helped us feel like we hadn't been quite so abandoned.
Here endeth the lesson. Except not quite, because Virgin Atlantic hasn't learned anything.

3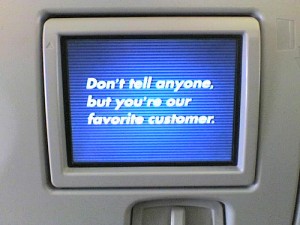 We've all been at that point, when you're so frustrated with your work that you just want to grab a beer, inflate the slide and jump out ofthe aircraft, sliding your way to freedom. Those of us with a reality filter know we can't do that. We'll lose our jobs, be the subject of ridicule – there will be repercussions, not the least of which will be bad PR for our company, which maybe isn't so bad after all.
But this week, one flight attendant threw caution to the wind and himself off an airplane, resulting in the company's mobilization of social media to turn the PR around. And, as Fast Company Magazine notes, they did so expertly.
For the first 48 hours following Slater's famous beer slide, JetBlue said nothing. Then, on Wednesday, JetBlue made the scantest of acknowledgments. On its "BlueTales" blog, it noted that:

"[…]it wouldn't be fair for us to point out absurdities in other corners of the industry without acknowledging when it's about us. Well, this week's news certainly falls into that category. Perhaps you heard a little story about one of our flight attendants? While we can't discuss the details of what is an ongoing investigation, plenty of others have already formed opinions on the matter. Like, the entire Internet. (The reason we're not commenting is that we respect the privacy of the individual. People can speak on their own behalf; we won't do it for them.)

"While this episode may feed your inner Office Space, we just want to take this space to recognize our 2,300 fantastic, awesome and professional Inflight Crewmembers for delivering the JetBlue Experience you've come to expect of us."

It's a wily little post, expertly done—mixing cheeky self-deprecation, ostensible privacy concerns, an apt and funny YouTube link (to the Office Space movie), and only the tiniest dose of PR pablum. What's fascinating, however, is that these 140 or so words constitute almost the entire response to a story that has had every media outlet scrambling all week.