Posts tagged
comedy

0
Comedy as social change? Only in Jerusalem. 🙂 December 21-22 saw the arrival of a group of comedy change-makers from around the world for the premiere Comedy for a Change conference. Originally signed up as an attendee, I was honored that they subsequently hired me as social media manager for the conference – I created and managed the @JJJComedy Twitter for the three weeks before the conference, during the event itself, and for several weeks after.
The brainchild of comedy writer and exporter of Israeli TV formats Omri Marcus, the conference brought to Israel people who had never been there before, to experience different styles of comedy, examine how comedy informs the social and political perspectives, and to participate in an international writers room.
As the social media manager for the conference, I watched the tweets fly fast and furious throughout the day, documenting the unique proceedings as they transpired. The mayor of Jerusalem was interviewed by a foul mouthed puppet (think Avenue Q, but ruder). Participants were treated to an inside scoop of from the writers of the German, American, and Israeli versions of the hit show, "The Office." Two Canadian comedians talked about their Yiddish-language comedy series, YidLife Crisis. The head of television programs for the BBC spoke about his network, Israel in the news, and the changing face of anti-Semitism in Europe. Session panelists talked about pushing the envelope, the process of producing video, and how social change messages can be embedded in comedic contexts.
The United States, of course, was well-represented. Other comedy professionals hailed from countries as far away as Sweden, Denmark, Hungary, South Africa and Canada; there were also two Muslim comics (from Denmark and Brooklyn), who were a vital component to the "Non-Diplomatic Peace Talks" session (covered by CNN), an experience pairing them with two Israeli political comedians and moderated by a German. (If you pause at 2:00 in the clip, you can spy me in the audience, smiling demurely and looking down at my notebook.)
Check out a sampling of the Tweets and photos from the conference, as rendered through Storify:

0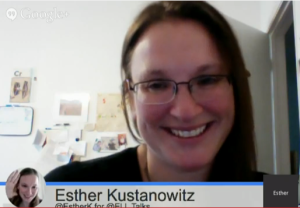 Thanks for your patience while we worked out some technical challenges with EstherK.com – I'm looking forward to bringing you more writing, advice and food for thought in this space over the next few months, and hope you'll be here to think, learn and laugh with me. Until the fresh content is fully baked, I wanted to share these two videos with you.
I've started working as freelance community manager for ELI Talks, a program designed to bring TED-style talks and weekly on-air conversations to people who want to explore Jewish engagement, literacy and identity. Most of the time, I'm behind the camera, live-tweeting the weekly conversations (you can see past editions at the ELI Talks website under the section for ELI Talks on Air). But my first run was as an intervieweee – I spoke about my writing on everything from Jewish singles to life after loss; and my next one was as an interviewer, as I spoke to the guys behind the Jewish video site Shmideo. (The links in the previous sentence will take you to MyUrbanKvetch, for the minute-by-minute breakdown, in case you'd like to see a part of the video without sitting down to watch the entire thing. :))
More content to come – looking forward to sharing with you in this space soon! (And a happy Jewish new year to those of you who are celebrating…)